Vietnammese born and bred
     Azetcoffee is a pioneer in the production and supply of pure coffee processing in VietNam. The General Guideline of the leading business AzetCoffee protect consumer health by bringing coffee product quality and clean. Over time we've become famous for consistently delivering delicious Vietnamese coffee in a modern and comfortable environment that reflects the appeal of modern Vietnamese life.
     Azet products are strictly inspected from harvesting and processing to transport and storage, to ensure the supply to the market the best quality products. From there, make a long-term development and sustainability for AzetCoffee.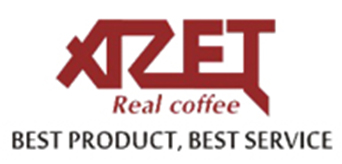 AzetCoffee brand gives customers peace of mind about the quality of products as well as customer care processes hearted, thoughtful.
     In addition, there is a team AzetCoffee free advice for those customers wishing to open a coffee shop. With the experience gained in 10 years, Azet confident that will bring the most effective solutions and support consistent optimal way to bring the highest benefit to the customer.
   We not only supply the domestic customers , but also the processing and export to the country.  With Coffee roasting technology imported from Germany, Italy, We affirm bring the best quality products to customers.
          Azet COFFEE, confirming the quality of pure coffee.